Beth's Sewing Machine Service Center

You love your machine and at Beth's Creative Stitchery, we get that! We sew, too! And, we want your machine to run at its peek performance so you won't miss a stitch!
Unlike most, we specialize in the "whole machine" approach. We don't just address an issue, but see the entire picture. Hooks are removed and cleaned. Upgrades are done. The most current software is loaded. Special test performed. Tensions checked. Stitches balanced. The proper tools and gauges are used to adjust your machine to the Swiss specs. A detailed log is kept on your machine for future reference. Only original BERNINA replacement parts are used. All this experience AND a full year warranty on the repair.
This comes from 39 years of love and respect for the BERNINA product and an attention taken to detail.
We service machines based on "first in, first service". You are not required to make an appointment and machines can be brought in anytime during our operating hours. For MOST current models, all we need is your machine and the bobbin case. For sergers and machine that were born in the 70's and the 80's, we will also need your power cord and foot control. Bring items you might be having an issue with, as well.
When your machine is checked in for serving, we will do our best to give you an estimated time of completion.
35 years experience
Factory trained
Mechanical machines
Computerized machines
Embroidery machines
Sergers
Vintage Bernina's
Walking Feet Service
thousands serviced
1 year service warranty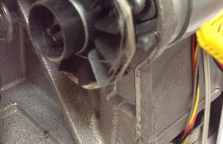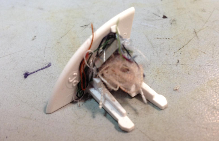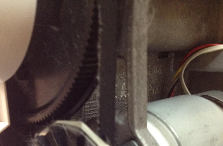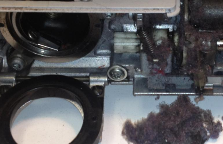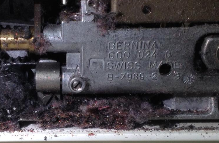 What to bring with you...

Rotary hook include 8 Series, 7 Series, 5 Series as of 2017, 4 Series as of 2018, 1630, Artista, 180, 200, 730, 640, 560, 580, - bobbin will be black or have rectangular holes and 9mm stitch width.*
Service Center turn around times...

Our service department is busy year round. With the retirement and transfer of two repair technicians, service does take longer then in the past.

Machines are serviced on a First come/First served bases (or "by date", as we refer to it!). PLEASE, do us a favor, and refrain from calling to inquire if your machine is finished... as it is likely the next one in line! When your machine is finished you will receive a TXT message from the service department, which will include a picture of your machine, so you can easily identify BCS from a junk TXT.

Current service time as of September 2021 - RED - The service department will be on vacation the month of September. Upon return, all machines will be serviced first in/first out.

Vintage Bernina service policy - If your Bernina is over 25 years old, purchased from the internet or was inherited, a $50 non-refundable bench fee might be required upon check-in of machine. It will be applied to the service fee upon pickup. In the case the machine is unrepairable or exceeds realistic value, this fee is forfeited.
GREEN

- Little or not wait, one week turn around
YELLOW

- at least 14 day wait
RED

- Please plan on 3 to 4 weeks for us to get your machine on the work bench. We are working as fast we can to properly service your machine and get it back to you.
Oscillating hook include all machines from the 70's and 80's, all of the push button computer machines in the 90's, 1530, Activa, Virtuso, Aurora - bobbin will have 7 round holes and 5mm stitch width.*
*this is not a complete listing of all machines within these categories, just a sampling.